Best gaming PCs under $1500 - June 2022
With a budget of $1500, buying a beast of a gaming PC is not a problem. Gaming PCs within such a budget will easily max out all of the settings at 1080p and will not have much trouble with 1440p and even light 4k gaming.
While we always recommend building your own gaming PC, we realize that the current GPU shortage is making this a significantly more difficult task. In addition, we understand that not all people have the necessary knowledge to build their rig, or just don't want to risk breaking some component (especially when current-gen CPUs and GPUs easily reach approach $500 and higher prices). So this article is for the people who do not want to deal with the hassle of building their own gaming computer.
Before we start, I would like to note that we have similar articles for $600, $800, and $1000 budgets.
Here is the list of the best prebuilt gaming PCs under $1500:
**Note** - As you go down the list, the computers are more likely to be out of stock or are approaching the gates of being overpriced.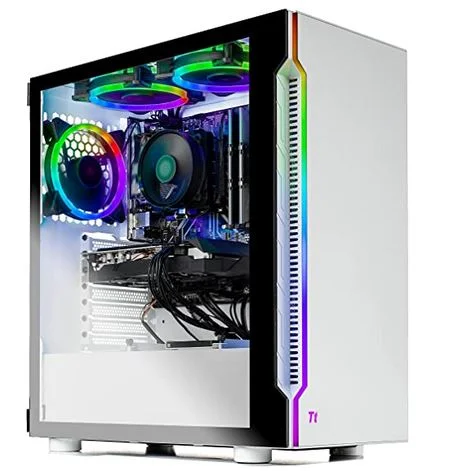 Specs
| | |
| --- | --- |
| CPU | Ryzen 5 3600 |
| GPU | RTX 3060 12GB |
| R.A.M | 16GB 3000MHz |
| Storage | 1TB SSD |
Biggest Pro - Great availability
Biggest Con - None
This SkyTech prebuilt is a perfect example of parts that a $1500 gaming PC should contain. It comes with the powerful Ryzen 5 3600 and the current-gen RTX 3060. With such a mighty combo, rest assured that no game will challenge your framerates. Going on, there is no need to inflate the price by adding 32GB of RAM or adding a significantly stronger CPU such as Ryzen 5 5800X. This specific build looks nice and has a lot of positive reviews. It also comes with a free keyboard and mouse. Overall, an awesome computer that will not bring you down with its performance.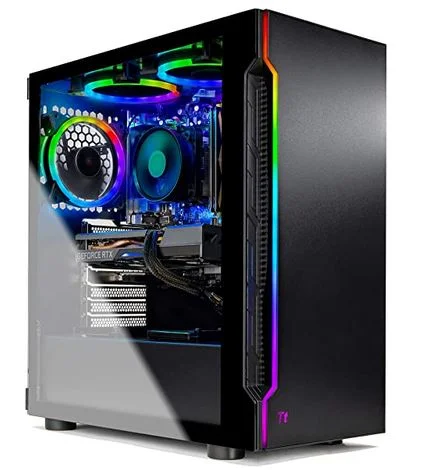 Specs
| | |
| --- | --- |
| CPU | Ryzen 5 3600 |
| GPU | RTX an 3060 Ti 8GB |
| R.A.M | 16GB 3000MHz |
| Storage | 1TB SSD |
Biggest Pro - Has RTX 3060 Ti
Biggest Con - Ships within a month
Coming at $100 below the budget, this particular prebuilt gaming PC is an astonishing deal. This build contains Ryzen 5 3600 and RTX 3060 Ti, which is a very competent combo within such a budget. This is especially true during current GPU shortages, where the cheapest RTX 3060 Ti on the market might cost you at least $700. Furthermore, this PC does not downgrade or reduce other parts such as storage to obtain such competitive pricing. It still rocks 1TB NVMe and 16GB 3000MHz RAM. The only downside towards this PC is that it ships from 1-4 weeks, which is definitely not what any buyer wants (especially a PC gamer), but it is not unjustifiable. It has over 2000 positive reviews on Amazon and it's highly praised by its owners. Overall, it's a beautiful and powerful gaming machine that is definitely not marked up much by SkyTech. Even the PSU is Gold rated... If you don't mind the wait, this gaming PC would be one of your best opportunities at a solid gaming PC within current turbulent times.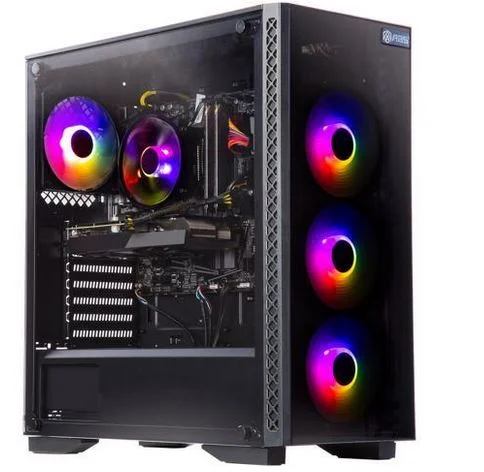 Specs
| | |
| --- | --- |
| CPU | Intel i5 10400F |
| GPU | RTX 3060 12GB |
| R.A.M | 16GB 3000MHz |
| Storage | 512GB SSD |
Biggest Pro - $200 below budget
Biggest Con - None!
When it comes to fairly priced builds, ABS has your back. With this specific model, ABS combines Intel's i5 10400F and RTX 3060. What is nice about this computer is that it tries to keep the price low by reducing storage space and downgrading the CPU a little, and allocates that money to put an RTX 3060 into the build. While it would be nice to have i5 11400 or Ryzen 5 3600, in any case, GPU will be the bottleneck when gaming. Further on, people note in the reviews that the machine works great and does so quietly. It also looks decent and comes with a $30 keyboard and mouse combo. Overall a good deal for people with tight budgets.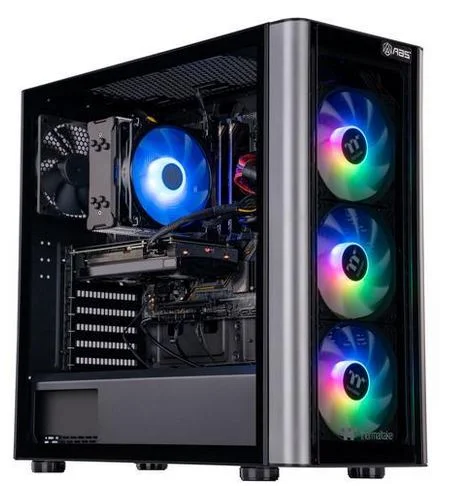 Specs
| | |
| --- | --- |
| CPU | Intel i7 10700F |
| GPU | RTX 3060 12GB |
| R.A.M | 16GB 3000MHz |
| Storage | 1TB SSD |
Biggest Pro - Seems to have a good CPU cooler
Biggest Con - Nothing too impressive
Coming with i7-10700F and RTX 3060, this ABS prebuilt is another good option for a gaming PC under $1500. While nothing too fancy, this is one of the few PCs that have an i7 CPU and judging from the picture, a very solid CPU cooler. Besides the CPU and the cooler, the computer is pretty average when compared to other PCs on this list. It has 1TB NVMe SSD, 16GB 3000MHz memory, and a 700W Gold rated PSU. It also has an ABS branded Thermaltake Level 20 MT ARGB case, which is odd, considering that ABS has its own cases. Unlike most other computers, this one comes with Windows 10 Pro, which is not even remotely necessary for gaming. Nonetheless, this is still a good computer for its price.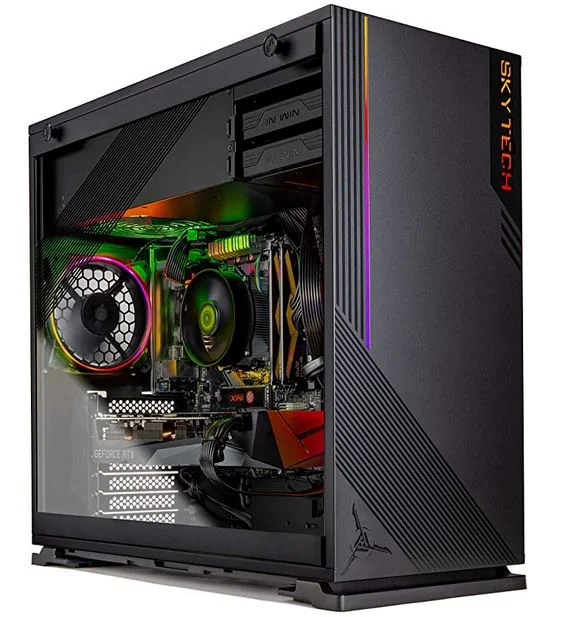 Specs
| | |
| --- | --- |
| CPU | Ryzen 5 3600 |
| GPU | RTX 3070 8GB |
| R.A.M | 16GB 3000MHz |
| Storage | 1TB SSD |
Biggest Pro - Has RTX 3070 = 30% higher performance
Biggest Con - Clearly over the budget
While clearly over the budget, we wanted to include this option for people who want to see the next best gaming PC beyond the $1500 price tag. The only significant difference between this PC and the rest of the ones mentioned in this article is that this one contains an RTX 3070. While other components stay constant such as 16GB RAM, 1TB NVMe... the upgrade to RTX 3070 will result in about a 30% increase in framerate most games. While having an RTX 3070 would make a difference in gaming performance, we believe that computers with RTX 3060 are more than enough to provide a satisfying gaming experience for any individual. Nonetheless, we just wanted to include this computer for the ones with a little looser budget.
Our expectations when picking out these prebuilt PCs:
Processor
Within a $1500 budget, you should not consider a prebuilt gaming PC that has a CPU that is weaker than Ryzen 5 3600 or Intel i5-10400. While most games will either way be limited by the graphics card, it would just be not appropriate to put any worse CPU. Especially when CPU pricing is relatively low when compared to GPU prices.
Graphics
For the graphics card, we only included computers that had an RTX 3060 and better. It is just a plain scam if you see a computer for $1500 and the graphics card is RTX 2060, or even GTX 1660 Super/Ti. While we realize that there is a severe shortage of GPUs, the prices have been slowly climbing down, and we expect them to drop even further when Ethereum mining ceases to exist in December this year.
In either case, if you see a computer with a better processor or 32GB of RAM, but it doesn't have an RTX 3060, it's a bad deal. Even though it seems nice to have more RAM or a more powerful CPU, the truth is that the limiting factor in the PC will often be the GPU.
Memory
Regarding memory, most computers will have 16GB, which is more than enough for gaming. The only thing that you can try to watch out for when looking at memory is that it is faster than 2666Mhz (most of the PCs on this list are 3000MHz) because it often causes the CPU to perform worse than their true capabilities allow them (especially Ryzen CPUs).
Storage
For storage, it is best to aim for 1TB of NVMe SSD storage. It is fast and unlike HDDs and 2.5" SSD, don't clutter your PC too much. It is also acceptable to have 512GB of SSD, but only if the computer is cheaper accordingly ($1500 PC should have 1TB while $1300 PC could have 512GB).
What to avoid:
Crappy computers (duh!!):
If you didn't find a computer that fits your needs or budget within this article, we advise you to avoid Dell computers (G5 series and Alienware). Most of the computers that are manufactured by Dell are severely overpriced and often come with non-standard PC components (limits future upgradability) and overall inferior PC parts. It is much a better choice to stick with PC assemblers such as Skytech and ABS since they don't make their own parts (besides cases and fans).
Final Words
We hope this article helped you in your journey to find a new gaming PC. If not, we wish you the best of luck in finding one in the near future and hope that you won't ignore our advice mentioned in this article of picking the right PC within such a budget.